PADI Advanced Course and specialties 2021
Hvar Divers offers great dive sites, which makes for a great environment is which to continue your PADI education with Adventure Dives & Specialties.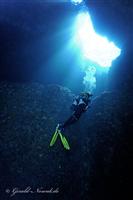 We offer: wall diving, drift diving, and deep diving The environment and ecology are typically Mediterranean, with imposing walls, drop-offs, caves, caverns, crevices and wrecks. The waters are renowned for their clarity, with vivacious colors and encrusted sponges, big sea fans of red and yellow, concentrations of red coral, nudibranchs, molluscs and crustaceans.
The aquatic life around Hvar is abundant, so you will see a variety of reef fish and encounters with larger pelagic fish are not rare, particularly around the deep walls and drop-offs.
PADI Adventure Diver
3 adventure dives Wreck, Multilevel, Drift, Fish ID / A.W.A.R.E, Search & Recovery, Boat, Peak Performance Buoyancy (PPB), U/W Naturalist, Night, etc.
* choice of elective dives is dependant upon dive center logistics
€ 199 - 1 day
Note: When a deep adventure dive is chosen the course takes 1.5 days

PADI Advanced Open Water Diver
Each dive of the Advanced course is called an Adventure Dive and after completing 5 Adventure Dives you will become an Advanced Open Water Diver.
Two of the dives are Deep and Navigation, - these are known as core dives. The other 3 dives are elective dives and you can choose from a range of adventure dives such as: Wreck, Multilevel, Drift, Fish ID / A.W.A.R.E, Search & Recovery, Boat, Peak Performance Buoyancy (PPB), U/W Naturalist, Night, etc.
There is not as much theory involved as in the Open Water Diver Course and there is no final exam.
The Advanced Open Water Diver Course makes you a more confident, experienced and safer diver which means that every dive you do becomes more fun (you are more relaxed so you notice more, your air lasts longer, etc).
* choice of elective dives is dependant upon dive center logistics
€ 279 - 2 days
Excluded: the AOWD e-Learning package and has included your certification fee: 129 euro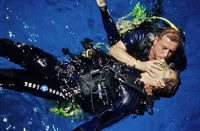 PADI Rescue course
The PADI Rescue Diver course philosophy focuses on the concept that there is rarely only one way to accomplish a task.
There is no single "right" way to perform a rescue, but rather there are many variables and resources that rescuers consider and draw upon, depending upon the scenario. The course takes a flexible, conceptual approach to rescue — a rescuer's relative size and strength, for example, as well as environmental factors, may dictate or influence what rescue technique will be most effective.
The course water training sessions develop students' foundational skills, which they adapt to their personal differences and needs. Skill development encourages divers to experiment, learning to capitalize on their strengths, recognize their limitations and consider these in emergency situations. Student divers learn first to think about the options available for handling an emergency, and then to act using their appraisal of the best method for the situation.
€ 315 - 2 days
Course prerequisites
PADI Adventure diver of which 1 adventure dive with navigation
CPR trained (Red Cross, EFR and many more accepted first aid organisations)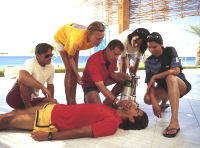 PADI EFR course
This course is needed to become a qualified Rescue diver. Equivalent courses also count!
Primary care - CPR for Adults, Children and Infants Secondary care -
First Aid - Injury assessment, Illness Assessment, Bandaging, Splinting for dislocations and fractures
AED - Automated External Defibrillator use
Care for Children (CFC) - optional
€ 129 - duration 1 day
€ 49 supplement when adding CFC to the EFR course
€ 49 supplement when adding PADI emergency oxygen provider to the EFR course
PADI Tune up (beach) only in combination with a dive booking
If you have not dived for many years, you could decide to do all the skills again. There are scuba 20 skills involved, your Instructor will demonstrate all the skills one by one to refresh your memories prior your practice sessions.
€ 99 - duration 1/2 day and only in combination with a dive booking
PADI specialty courses
| | |
| --- | --- |
| U/W Naturalist, Multilevel, Drift, Boat, PPB diver (2 boat dives) | € 139,00 |
| Navigation specialist (3 dives) | € 175,00 |
| Deep, Search and recovery Diver (4 boat dives) | € 249,00 |
| single Adventure dives - choose from any specialty course | € 69,00 |
| | |
| go to booking or contact form | |